The Arts
---
King's believes that education includes a variety of disciplines – including the Arts. Students are given the space, time and encouragement for artistic expression, from music to theatre to fine arts. Instruction is offered by skilled, qualified craftspeople with specialized degrees in their areas of expertise. The results are inspiring – King's students excel in the performing and visual arts and many graduate to sought-after programs at elite schools in North America and beyond.
Why study the arts in school?
Because the Arts:
Enhance individuals' lives.
Strengthen the cultural infrastructure.
Improve student academic growth and development.
Enhance economic development.
Work to ensure a creative and competitive workforce.
Reduce isolation and build community, building a spirit of inclusiveness.
Create a highly desirable environment in which to live or visit.
Visual Arts
---
Being an artist is part of being a whole human being; everyone has the capacity to be a unique artist, as we each are a unique image of God.
In the King's Art Studio, students gather together as a special community of people who are interested in making unique visual art and serving God. A supportive community of growing artists develops from Grade 9 to 12 and beyond.
The Grade 9 year focuses on personal growth in the studio areas of drawing, painting, sculpture and digital design. The intermediate years, Grades 10 and 11, ground each student in Styles and Functions of art making; and encourage creative activity along areas of interest and aptitude. Some years offer the opportunity to make collaborative art pieces, which are displayed as permanent installations at King's.
Each semester, Art students schedule one-on-one Folio Friday sessions with an artist/educator for the purposes of being mentored to the next level, whether to continue in personal expression or to pursue art as a career. Crafting an excellent digital Folio is a key component of the studio and Folio Friday experience.
The Graduate year, Grade 12, culminates in an exhibition in the King's Gallery space with a unique series of artwork in the student artist's media and themes of choice.
King's Alumni consistently produce top Art Folios and currently study at and graduate from the preeminent regional and international art universities, including:
Ontario College of Art and Design (Toronto)
Sheridan College (Oakville)
School of Visual Arts, Pratt Institute, Parson's (all in New York City)
Central Saint Martins College of Art and Design, University of the Arts (both in London, England)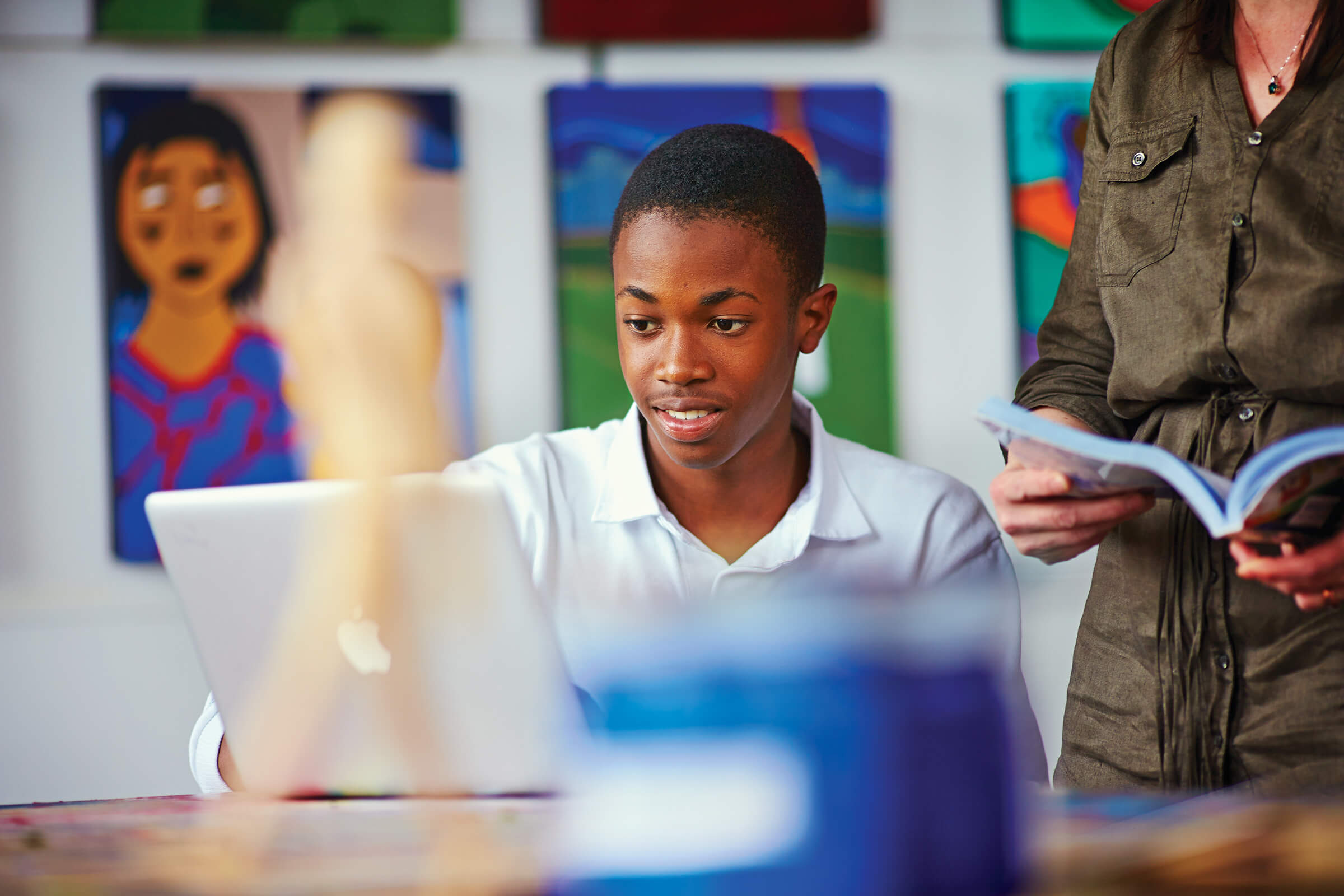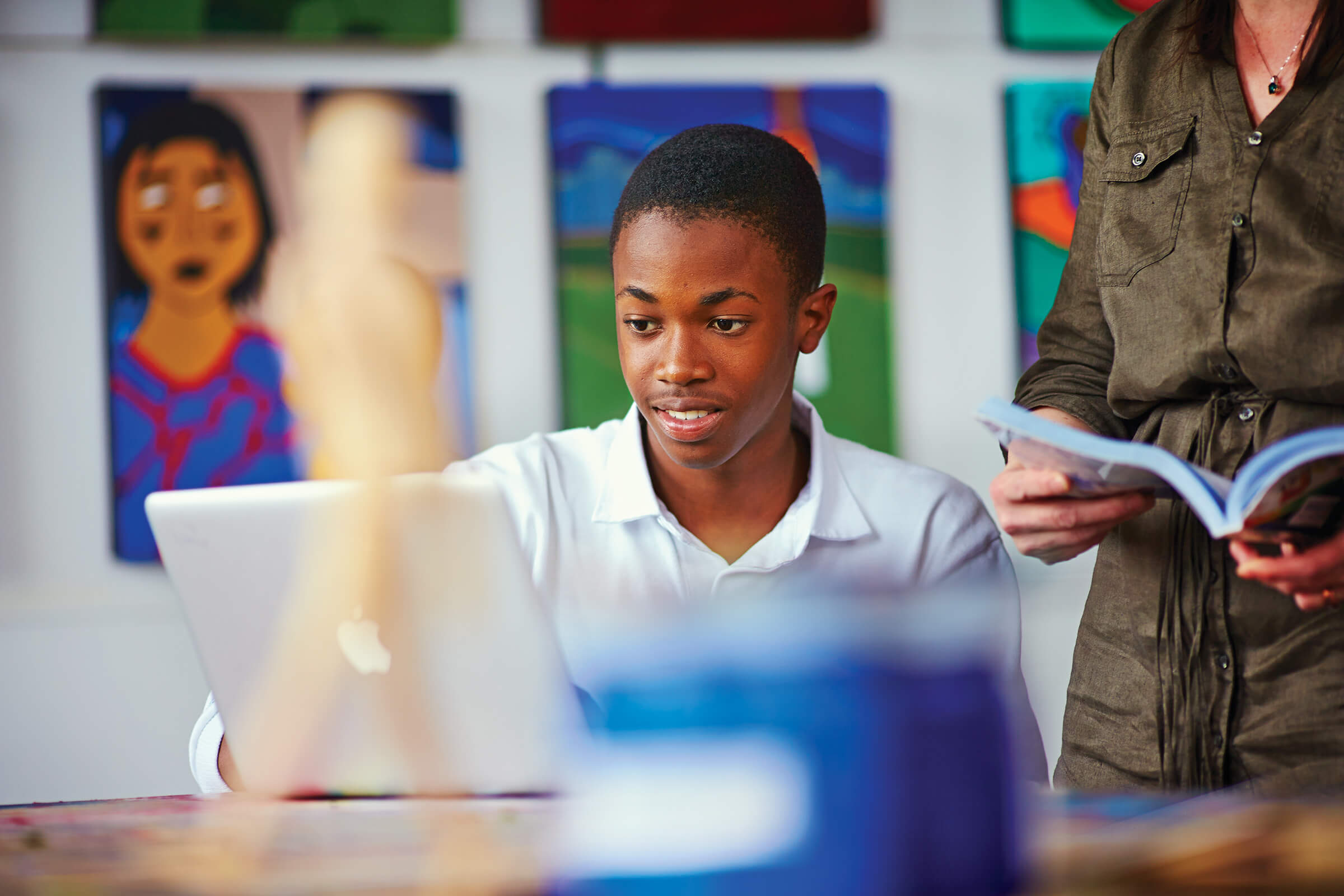 Theatre Arts
---
Join the next generation of storytellers in our theatre program. Learn how to be a more successful communicator in one of our classes or shine onstage in our extracurricular program. Our theatre program is built on the belief that all students can learn to be effective and capable communicators and that communication skills are essential to success in the modern world.
King's offers a theatre course at every grade level. Students follow a unique program of study based on the conservatory model and designed to foster critical thinking, creativity, and professionalism. Classes take place in a well-equipped studio theatre. King's Theatre Arts graduates have been accepted into some of the top theatrical programs in North America. 
KING'S PLAYERS AND TECHNICAL CREW 
The King's Players form the extra-curricular wing of the Theatre Arts Department. The Players present two main stage productions each year. Students can be involved onstage or off. Offstage opportunities include stage management, wardrobe (costuming), scenic design and construction, painting, as well as sound and lighting design and operation.  
Previous productions include: The Trial of Ebenezer Scrooge, Much Ado About Nothing, Cyrano, Little Women The Broadway Musical, Charlotte's Web, Rodgers and Hammerstein's Cinderella, and The Magician's Nephew. 
THE THEATRE
The Theatre is a one-of-a-kind theatrical space that can transform from a classroom studio to a thrust or proscenium space. With audience seating for 264, performances are brought to life with state-of-the-art sound, lighting, and projection.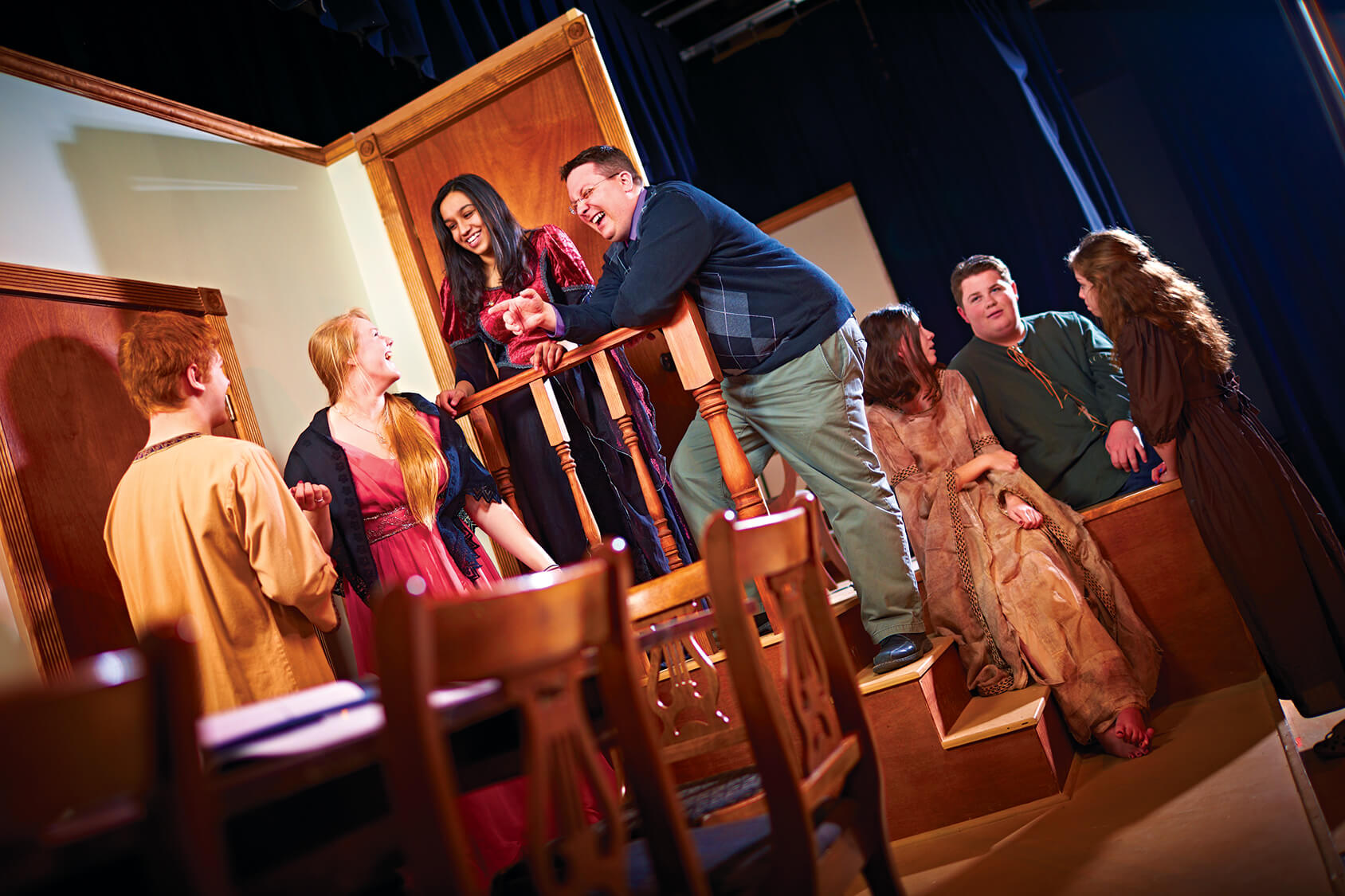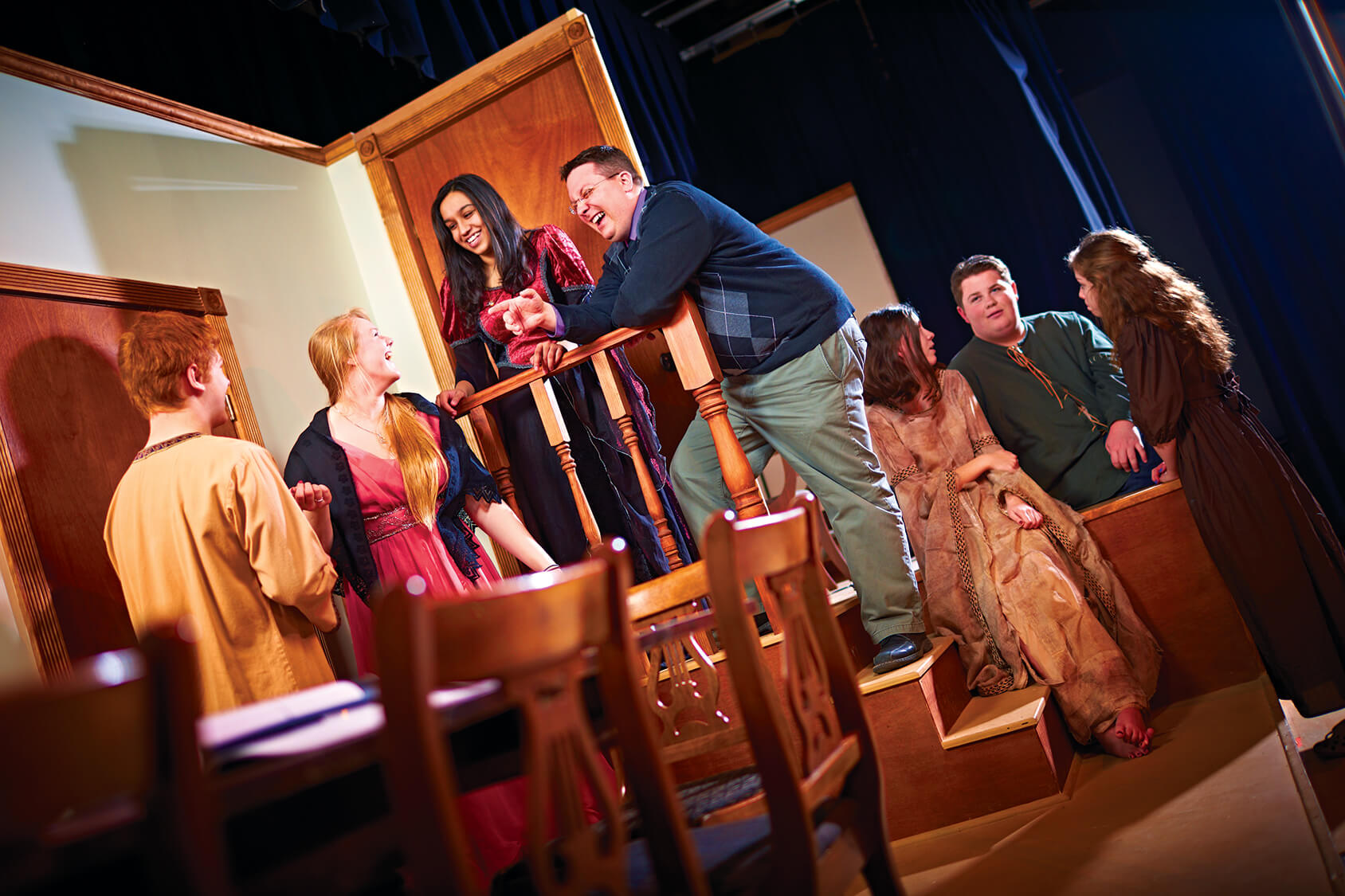 Music
---
A musical haven inspiring discovery, growth and expression. Our fully equipped and beautifully appointed music conservatory is a place where students find and enriching environment to improve their skills and share a love of music.
The enjoyment of music is universal. King's offers musical instruction in instrumental (i.e. band) music, vocal music and strings. Under the superb direction of Mrs. Janessa McFarlane, budding and experienced musicians alike come together to "make a joyful noise." The King's Concert Band and the King's Choir mount ambitious seasonal concerts at Christmas and in the spring.
The Music Conservatory is a dedicated 4,000-square foot space uniquely designed for the celebration and performance of music. Acoustically engineered for optimum sound quality, the Conservatory supports the music program and is the music classroom and rehearsal hall for the King's Concert Band, the King's Choir, and a variety of instrumental and vocal ensembles. Five soundproof practice rooms and a mezzanine with theatre seating complete the Conservatory.
The Music Conservatory is available for rehearsal and performances. Rental enquiries should be directed to Mrs. Sharon Van Beilen, Rental Coordinator by phone: 905-257-5464 ext 503.