School Culture
---
The King's community values its students for who they are and recognize that a significant part of their learning can take place outside of a classroom setting. Several excellent programs are in place to allow students and teachers to pursue their interests, develop new skills and deepen their sense of belonging to our school.
Global Learning Trips
---
Students at King's Christian Collegiate benefit greatly from opportunities to learn abroad—whether we are interacting with people who live in material poverty, walking on historical sites where battles were fought, or marvelling at God's creativity all over the world.
In past years, student and teacher teams have ventured away to visit people and places in Brazil, Belize, Indonesia, Kenya, the Dominican Republic, New Zealand, Peru, the Netherlands, Belgium, France, Italy, the Czech Republic, Germany, Ghana, the United States, Israel, and more. These diverse and structured trips provide students with solid educational and faith-nurturing opportunities that are interesting, fun and memorable. Our trips are designed to promote personal and spiritual growth, engage student interests, spark new relationships, increase cultural awareness, and partner with other communities through completing acts of service. These trips open doors and change lives. Year after year, students say these trips are a highlight of their high school years.
Detailed trip-specific itineraries are available on Edsby or in the Main Office.
If you have specific questions about our Service Trips, please contact Mrs. Lisa Conlin (Vice Principal of School Culture) at 905.257.5464 ext 517 or Mr. Ron Masengi (Vice Principal of Christian Leadership) 905.257.5464 ext 528.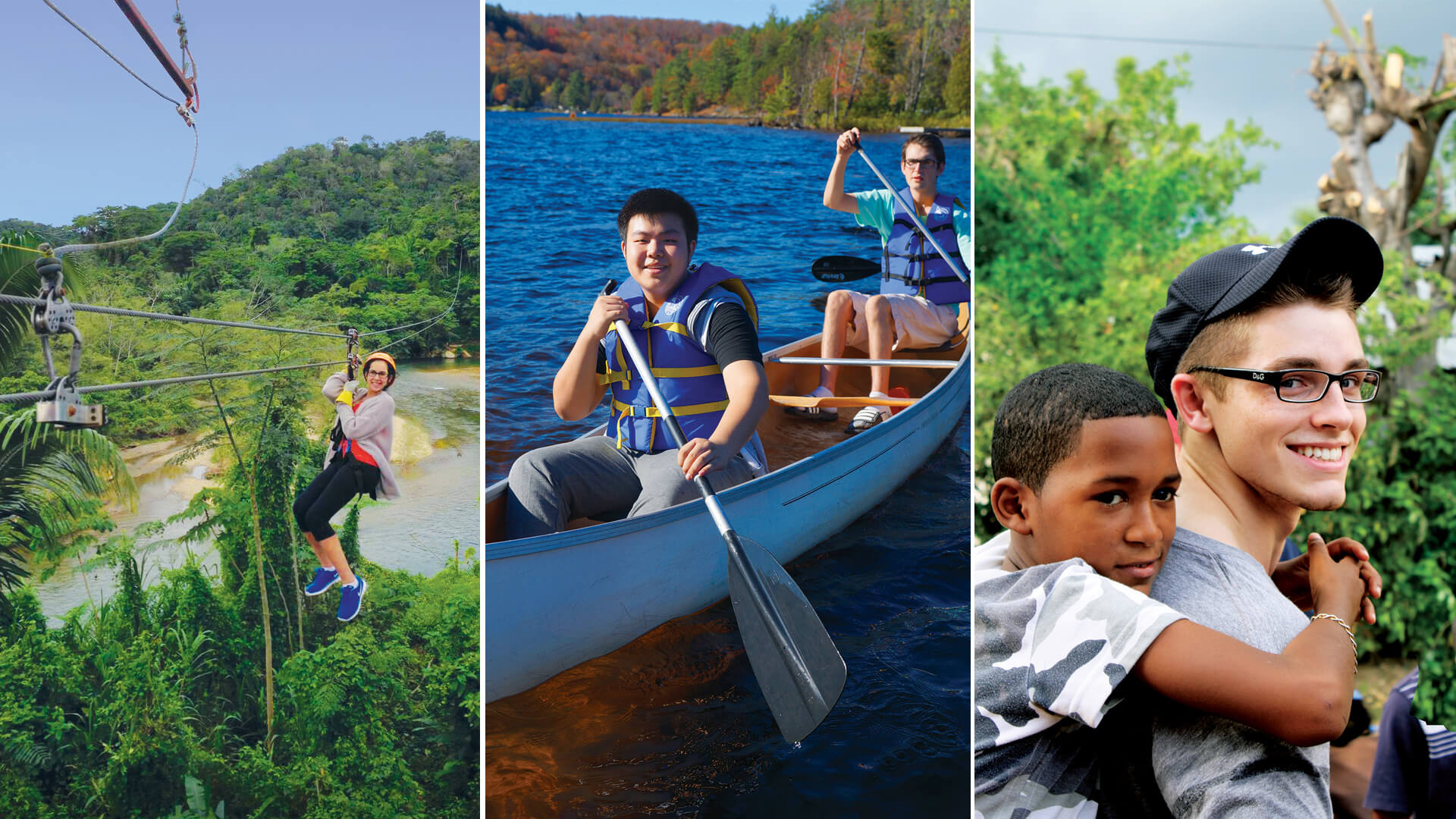 Global Awareness Trip Bursary
During their years at King's, students are encouraged to participate in at least one of the many Global Awareness trips offered each year. We are confident that these trips are a blessing to the destination locations and are instrumental in the character formation of participating students. Whenever the barrier to participation is financial, we encourage students to apply for a Global Awareness Trip Bursary. The value of these bursaries ranges from $100 to 50% of the cost of the excursion. Applications are in the Global Awareness Trip application package.
Global Education Initiative… Exploring and Serving
We believe that an entry point to loving our neighbours is knowing our neighbours — learning about the background, culture and lives of others. Each year, we offer a variety of high quality teacher-led educational trips. Yearbook pages are full of student testimonials citing these adventures as memorable highlights. Service trips broaden perspectives, offer hands-on opportunities to make a difference, and encourage students in their spiritual walks. Cultural trips present vibrant, worthwhile and tangible learning opportunities. The King's destinations have been diverse – including such countries as Israel, Indonesia, Belize, France, Italy, Brazil, and New Zealand. Additionally, an annual service trip to the Dominican Republic builds on a treasured partnership with the Lighthouse Christian school and the community of Los Alcarrizos. On all King's trips, new friendships are formed, knowledge is expanded and lasting memories are created. To encourage the participation of all students, bursaries are available to assist with the financial costs. It is our hope that each King's students will participate in one trip before graduating.
Student Leadership
---
We encourage our students to develop their individual leadership styles. Whether a student enjoys behind-the-scenes organizing or likes to be front and centre, there are many diverse opportunities for servant leadership here. In the realm of Student Life, our formal leadership programs include the Prefect Leadership Program, Student Council and The Grade 10 Challenge Leadership Team.
Student Council…Inspiring and Inviting
A vibrant and creative Student Council is formed each year where, under the mentorship of teacher advisors, students work together to plan outstanding events that bring the student body together and provide opportunities for students and staff to demonstrate their school spirit.
Impressive Student Council Executive campaigns take place prior to elections in May, while individual Grade and International Student Representatives are elected in September. Over the years, the teamwork of these committed individuals has been evident in worthwhile events such as the 30 Hour Famine, Operation Christmas Child, "Movember", Hoops for Hearts, the Terry Fox Run, spiritual retreats, and winter coat and food drives. Gym riots, theme dress days and dances are invigorating and popular events that bring students together for much laughter, building community spirit and fun. The Student Council is always offering enticing ways for students to get involved.
Prefects
The Prefect Leadership Program was created to provide formal leadership training and to enable selected students to put their recognized abilities into action in powerful ways. Based on staff nominations and a student application process, a diverse and capable team of Grade 11 and 12 Prefects is selected each year.
Welcoming new students is definitely the favourite role of Prefects, and they do their best to ensure that our new students step into a warm and friendly environment, where initiation and hierarchies have no place. It is important that all incoming students at King's realize that, from day one, King's is their school. Our Prefects enjoy everything from assisting with stubborn locker combinations, pointing out the right classrooms and making personal connections with new students. Prefects help run new student orientation activities and international student events, they plan and lead informative and relevant seminars for Grade 9 students, and they provide an inviting atmosphere and listening ear for any student.
Through this program, student leaders are brought to heightened levels of leadership as they build positive relationships and implement their skills. They participate in workshops with leadership experts. King's Prefects experience recognition, encouragement, empowerment, and ownership.